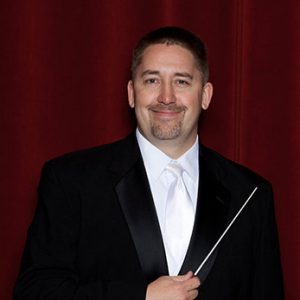 Year of Graduation – 2003
Current Position – Director of Bands, Mandan High School, Mandan, ND.
Time in current position – 5th Year
What was your background before ABC?
Before ABC I taught middle school band for 6 years. I started at Bismarck High School the fall after my first summer at ABC.
Name some other accomplishments or awards since graduation.
March 2010 – Bismarck HS Wind Ensemble performed at ND Music Educators Convention

ND All-State Auditions & Finance Manager

March 2011 – ND NBA Outstanding Jazz Educator Award

December 2011 – Mandan HS Concert Band I performed as a Clinic Band for Dr. Tom O'Neil – the University of Missouri at the Midwest Clinic in Chicago

March 2014 – Mandan HS Concert Band I performed at ND Music Educators Convention

March 2016 – ND NBA – Citation of Excellence

March 2016 – ND Music Educators – Educator of the Year.
How did ABC help prepare you for these?
ABC was instrumental in helping me to fine-tune my teaching. The master's program process was an eye-opener in how to streamline my work outside the classroom to benefit my students in rehearsal. I was really unaware of the possibilities until I spent my summers at ABC!
What was your most memorable ABC experience?
The most memorable experience for me was rehearsing W. Francis McBeth's music with the band and then getting to perform it with McBeth conducting. I will never forget it.
Who are your biggest influences/mentors?
My high school band director, Dale Nelson, is the reason I am a band director. He was a tremendous teacher, but more importantly, he knew how to reach kids and get more out of them than even they thought they could do. John Colson, my college trumpet and conducting teacher, and James McKinney, my college director of bands, were amazing musicians and great mentors. Mr. Colson has written a couple of books on rehearsal technique that are marvelous resources. Mr. McKinney could do it all – he is the rare soul that seemed equally at home in front of a concert band, a marching band, or a jazz band. I am so blessed that I have the opportunity to stay in touch with all three of these gentlemen to this day.
What advice do you have for young directors?
I advise all young directors to go on to a master's program. The knowledge and experiences are invaluable. I also advise them to connect with other directors, we are our own best resource. I am very proud to have 2 former students graduate from ABC. I cannot recommend it highly enough!