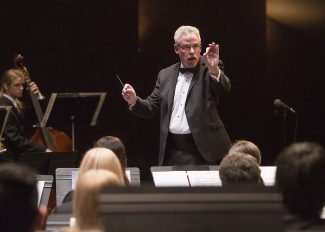 What was your background before ABC?   I was born in raised in Pampa, TX, a rural town in the Texas Panhandle. I attended Southwestern Oklahoma State University in Weatherford, Oklahoma where I received a wonderful undergraduate education. After receiving my Bachelor of Music Education Degree, I returned to my hometown of Pampa as assistant band director where I taught at all levels of the program, beginning band through high school.
After 6 years, my wife, Carol encouraged me to seek my own program. After hearing Frederick Fennell speak in a clinic about finding a broken band program and fixing it, I decided to pursue that direction in my career, thus finding myself at Rosebud-Lott ISD in Central Texas with a high school band of seventeen. Three years later the band was over sixty and I moved to Temple, TX where I have made my career since. I taught at Bonham Middle School and was Assistant Director at Temple High School when I began ABC. After my first summer at ABC, I became the head director at Temple High School.
When did you graduate from ABC?    I graduated in the summer of 2001.
What is your current teaching position?      I am currently Director, Division of Fine Arts and Director of Bands at Temple College, a two-year community college. In addition, I am an adjunct instructor for the Bachelor of Music Degree at Texas A&M University-Central Texas in Killeen.
How long have you been in that position?      I am in my third year as Division Director and my 12th year as Director of Bands.
Name some other accomplishments, awards or other degrees since graduation.      At Temple High School I had consistently award-winning marching, concert and jazz bands. In 2005, I received the KXXV Golden Apple Award for excellence in teaching. In 2007, I became a member of Alpha Chapter of Phi Beta Mu. At Temple College, I was the 2016 recipient of the Claudia and W.T. Barnhart Teacher of the Year award, and a nominee for the Minnie Stevens Piper Professor Award. In addition, I received a NISOD Award for Educational Excellence. I am a past President of the Texas Community College Band Directors Association and am current president for the Central Texas Jazz Society. One of my proudest accomplishments is the hard work from my faculty at Temple College in collaborating with Texas A&M University-Central Texas in the formation of our Bachelor of Music Degree. Our two-years students can stay on our campus and complete their four-year degree with our outstanding faculty.
How did ABC help prepare you for these?      ABC gave me that "toolbox" to be a better director. Even more so, the innovative approach of ABC helped me in negotiating the development of our four-year degree at my current two institutions. Most importantly, ABC began my journey of networking with music industry professionals from all areas of our profession.
What was your most memorable ABC experience?      There are so many, it is hard to name one, but my third year when Alfred Reed stopped while we were rehearsing Suite of Old American Dances, pointed at me and said, "You! You aren't a real clarinet player, are you?"
Who are your biggest influences/mentors?      My band directors at Pampa, Joe DiCosimo, Sam Watson and Jeff Doughten, my former colleagues, Bruce Collins, Cindy Mikel, and David Pennington, among many others.
What advice do you have for young directors?      Find mentors and talk with them often. Don't be afraid to ask questions. Try to find a balance in life. Remember you aren't teaching band, you are teaching human beings to be better through music. Read, listen, and most importantly, attend the American Band College, even if you already have a Master's Degree.