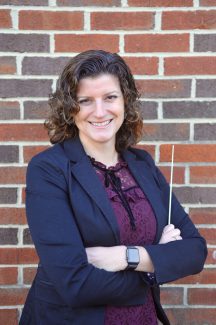 What was your background before ABC?
I graduated from the University of California, Irvine with a BM in Clarinet Performance.  I then went on to California State University, Fullerton to complete my teaching credential.  I started my teaching career at Shorecliffs Middle School in San Clemente, CA, teaching 6-8 grade Band and Orchestra.  I was also raising a family, and actually had to take a year off in between my ABC years 2 and 3 because I had a baby.
When did you graduate from ABC?   I finished at ABC in 2005, the same year I moved to Tennessee.  My husband and I had decided to move out of California to raise our children.  So, I got my masters, and immediately became a stay at home mom to 2 boys!
What is your current teaching position?     After moving to TN, I started working as an off-campus coach and private lesson teacher at Mt. Juliet High School.  When the assistant band director position opened up in 2011, I was the first on the list.  I started team teaching band with Tony Cox, team teaching choir with Sandy Elliott, and started an orchestra program, the only strings program in the county.
How long have you been in that position?    I've taught at Mt. Juliet High School for the last 8 years, and continue to assist with all band activities, choir activities, and have grown the orchestra program
Name some other accomplishments, awards or other degrees since graduation.     Recently, I was awarded recognition from SBO Magazine as a Director that Makes a Difference representing the state of Tennessee.  I've had students audition and be accepted into many honor bands and orchestras in the Middle TN area, including Tennessee Governor's School for the Arts.  My greatest accomplishments are my own children who are very successful music students on flute, bassoon and trumpet.  They are my real pride and joy!
How did ABC help prepare you for these?     ABC was a fantastic program that opened my eyes to many aspects of music that had only been touched on in my undergraduate programs.  The introduction to different literature, the many sessions that were so hands-on and applicable to my daily teaching, and the late night study sessions helped prepare me for anything that came my way over the last 13 years.  The projects I created grew me as a music educator, and I have used my literature project every year since it's creation in my own classroom.  
What was your most memorable ABC experience?     There are SO many!  I loved working with Pat Sheridan, almost passing out doing the breathing gym.  Col Bourgeois had the coolest conducting pattern.  Stephen Melillo had so much passion (and sweat) that we all couldn't help but have lots of energy playing his music. And Ralph Hultgren introduced me to innovative ways of creating the exact sound he wanted with his bottle cap percussion stick (and we all helped drink the beverages for the bottle caps!).  Most of all, the best part of ABC was the people I met and connections I made throughout the country. 
Who are your biggest influences/mentors?     My mentor teachers, Bob Hasty and Joslynne Blasdel, had a great influence on me.  The people I teach with daily are inspirational, as well.  I love utilizing my resources, and reaching out to other directors with questions, as well as mentoring and learning from student teachers and young educators.
What advice do you have for young directors?     Don't be afraid to ask questions.  Reach out to other directors and music educators in your area.  Go to every conference you can.  Research the best literature for your group's level.  Teach your students a well-rounded music education, focusing on all aspects of music so they understand the art they are creating, not just the mechanics of pushing down buttons.  Enjoy what you do, but also try and have a real vacation away at least a couple times a year.  Never stop playing your instrument.  Never stop learning. Never stop growing.