A special award of
The John Philip Sousa
Foundation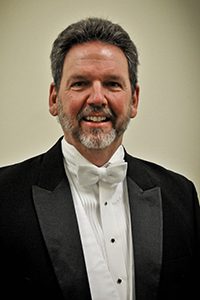 Thomas Barker is the Director of Bands at Lafayette Jefferson High School in Lafayette, Indiana. He has spent the last 18 years of his 39 teaching years in this position.
Barker earned his bachelor's degree from East Carolina University and his MSME from the University of Illinois.
His teaching began in Tolono, IL, then to Wolcott, IN, to the assistant director at Lafayette Jefferson and to Sunnyside Middle School before taking his current position.
Barker received the Lafayette Chamber of Commerce Golden Award in 1998. In 2005 he was named Outstanding High School Music Educator of Indiana. Phi Beta Mu, Gamma Chapter, named him the Outstanding Bandmaster in 2011.
The Bandworld Legion of Honor was established in 1989 to honor, over the course of a year, eight of the finest band directors in our business.

Recipients have taught for at least fifteen years, have maintained a very high-quality concert band program, and have contributed significantly to the profession through dedication to bands and band music.

Each is honored at the annual Sousa Foundation awards ceremony during the Midwest Band Clinic in Chicago, Illinois.

Chairman of the Legion of Honor Committee is Terry Austin, Virginia Commonwealth University.
He has served the profession by being a member of the ISSMA State Board for over 20 years, serving as its president in 2004.
Gold ratings are the norm for his groups as well as trips to the ISSMA State Finals.
"The most important factor that has shaped my career has been the numerous people in my life that have helped me. From my parents, who instilled a love for music and discipline, to my numerous teachers along the way in middle school, high school and college who took a personal interest in me,
to my loving and supportive family and finally the incredible students that I have had over my years of teaching."
His philosophy is this, " I am a teacher of people first and foremost. It is an honor to work with students and their parents using this extraordinary vehicle, music."