A special award of
The John Philip Sousa
Foundation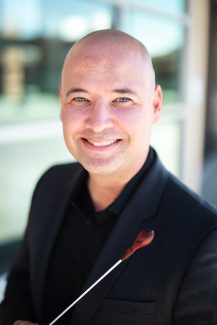 Michael Pakaluk has been the Instrumental Music Director at Lynbrook High School in San Jose, CA for the last 9 years of his teaching career. At Lynbrook he has his hands full as he directs the band, orchestra, marching band and jazz ensemble. He has also at the same time been involved with the Santa Clara Vanguard from 2016-2018.
Pakaluk graduated from the Hartt School of Music in 2003 with a M.M.in Music Education. He then went on and earned an M.M. in Trumpet Performance from the University of New Mexico. He has taught at all levels from elementary school as a K-6 general music teacher and instrumental music to the University level as the Pep Band Director and Co-Concert Band Director at the University of New Mexico.
The Bandworld Legion of Honor was established in 1989 to honor, over the course of a year, eight of the finest band directors in our business.

Recipients have taught for at least fifteen years, have maintained a very high-quality concert band program, and have contributed significantly to the profession through dedication to bands and band music.

Each is honored at the annual Sousa Foundation awards ceremony during the Midwest Band Clinic in Chicago, Illinois.

Chairman of the Legion of Honor Committee is Terry Austin, Virginia Commonwealth University.
He has achieved many successes in his career, including several with his orchestras. In 2016 the orchestra performed at the CASMEC state conference and in 2019 the chamber orchestra performed at the Midwest. He personally was named the CMEA Bay Section "Outstanding Orchestra Educator" and the Certificated Employee/ Teacher of the Year at Lynbrook in 2020.
Pakaluk has served many of the California professional organizations including the CBDA, SCCBDA, CODA and CMEA.
HIs groups have won numerous Superior ratings. They also travel including the wind ensemble to France in 2013; the band and orchestra to Carnegie Hall in 2016; the band and orchestra to Spain in 2018; and hopefully the band to the United Kingdom in 2021. HIs group have also been influential in commissioning new music for band.
When Pakaluk lists the factors that shaped his career he lists these:
1. The support and inspiration I've received from my mentors and teachers (notably Glen Adsit, Eric Rombach, and the community of Bay Area music education colleagues).
2. My desire to continually improve my skill as a conductor and teacher (I've attended a summer conducting workshop and some sort of professional conference like CASMEC or Midwest almost every year of my career).
3. My steadfast practice of the trumpet and involvement in local performing organizations. I still play professionally in a variety of groups.
4. My family and my 2 year old son. Balance is necessary for success and fulfillment. My son has made me a more patient and caring teacher than ever before.
When asked about his philosophy he will tell you,"However, my personal philosophy is that it's always about the kids and the music. I set high standards for my students because I believe they deserve to be challenged and respected. They need more opportunities in an increasingly technical and introverted world to experience humanity and all the beauty and messiness that comes with it. Music is the ultimate vehicle for this! The art demands and provides us with infinite opportunities to be better, to strive for order and abundant expression, but to accept that it (and we) will never be perfect."