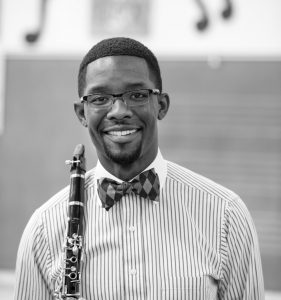 Year of Graduation – 2014
Current Position – Co-Director of Bands at Whitthorne Middle School in Columbia, TN.
Time in current position – 6th Year
Name some accomplishments or awards since graduation.
• Maury County Teacher of the Year (2015-16)
• South Central District Teacher of the Year (2015-16)
• Top 9 Finalist for Tennessee Teacher of the Year
• Middle Tennessee for Tennessee Teacher of the Year
• Guest Clinician for Tennessee 7th & 8th Grade All-Midstate Jazz Band
• Guest Clinician for All-Rutherford County High School Jazz Band
• Guest Clinician for Rutherford County All-Star Concert Band
• Performed with The Queen of Soul, Aretha Franklin
• Performed with the Cab Calloway Orchestra
•TNMEA All-State Jazz Chair
How did ABC help prepare you for these?
Being able to learn from some of the best band directors and clinicians across the country was very special. ABC helped me become a more well-rounded teacher and musician. The American Band College's unique, tailored curriculum allowed me to focus on strengthening my weaknesses. Every summer I left Ashland with practical teaching tools that I could immediately implement in my band room. Getting to learn from passionate educators like Peter Boonshaft, Tim Lautzenheiser and Colonel Mike Bankhead (just to name a few) made me realize the importance of music advocacy and has urged me to pursue more leadership opportunities to help advance music education in my state.
What was your most memorable ABC experience?
During my studies at ABC, there were so many memorable experiences. Every year, I was amazed at the quality of the clinicians and conductors and how down to earth they were. I was able to have many casual conversations with some of the best to conductors and educators in our profession. ABC's 25th Anniversary in 2013 was jam-packed with great times! I got to play alongside Harry Watters in a small dixieland band with some of my fellow ABC graduates. I also enjoyed getting to play the Lord of the Rings on its 25th anniversary, conducted by Johan de Meij.
At the top of my list is getting to perform "America the Beautiful" with Yolanda Peltzer at the Fourth of July concert my last year in 2014. This was the piece I was selected to rehearse for one of my 3rd-year evaluations. During the rehearsal, I explained my gospel roots – growing up playing piano and sax in my church – and how this particular arrangement has a gospel vibe to it. I added organ, some foot stomps and hand claps to make it more authentic and the band LOVED it! Colonel Bankhead liked it so much he decided to keep my additions for the final concert and he added an opportunity for me to play sax ad libs to accompany Yolanda. Getting to perform "America the Beautiful" outdoors on the Fourth of July with the mountains of Ashland and fireworks in the background was indeed "beautiful" and my most memorable ABC experience.
Who are your biggest influences/mentors?
I have always been inspired by Alfred Watkins. My first year teaching, I can remember watching Alfred rehearse our regional honor band. Talk about a master teacher! Also, I have been influenced by all of my former directors from middle school to high school to college in some way or another.
What advice do you have for young directors?
• Invest in Professional Development. Constantly seek opportunities to further your education. Whether it be a summer program or a one-day/weekend workshop, make sure that you are "keeping your tools sharp." By doing this you will also be able to make great connections with like-minded individuals that are committed to being the best educators they can be.
• Don't be afraid to ask for help. Reach out to experienced directors you may look up to and ask for guidance or check out a rehearsal of a master teacher.
• Master the art of self-reflection, constantly asking yourself what is going well and what can you improve. A great way to do this is by recording rehearsals regularly (video and/or audio). Keep a journal for your reflections and to set goals for yourself and your program.
• Let the needs and best interest of your students guide your instruction. To ensure that your students are receiving a well-rounded music education curriculum, make sure you are exposing them to some of the great literature from the past and present, teaching them how to play in various styles and genres.
• Continue to grow as a musician. Find a way to continue to play and perform. Whether it be in a community band or a professional ensemble. Students are inspired and motivated by teachers, especially when they see their teachers "practicing what they preach."