A special award of
The John Philip Sousa
Foundation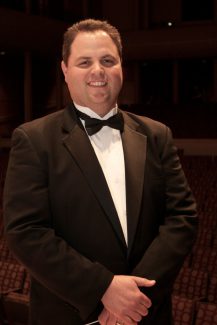 David Lesser is the first and only band director that Clovis North Educational Center in Fresno, CA has ever had. Lesser has stayed in the Fresno area since graduating from Cal State University in Fresno with his BA in Music Education. He been his career first as an assistant director at Clovis West before taking over that program as its director. When Clovis North opened its doors in 2007, Lesser made the move and has been there ever since.
Lesser has taken the Clovis North program to perform at the California All State Music Educators' Conference in 2017 and later that year had them performing at the Midwest in Chicago. In addition to these program honors, Lesser himself was named the Clovis Unified District Teacher of the Year in 2013.
 The Bandworld Legion of Honor was established in 1989 to honor, over the course of a year, eight of the finest band directors in our business.

Recipients have taught for at least fifteen years, have maintained a very high-quality concert band program, and have contributed significantly to the profession through dedication to bands and band music.

Each is honored at the annual Sousa Foundation awards ceremony during the Midwest Band Clinic in Chicago, Illinois.

Chairman of the Legion of Honor Committee is Terry Austin, Virginia Commonwealth University.
The way in which Lesser has served the profession is certainly admirable. He has organized and hosted, held nearly every office at some time, administered and advised. He was the Western Region Representative for NAfME from 2017 -2019. He currently is an Advisory Board Members er to the Midwest Clinic.
The quality of the program is evident with Clovis USD Spring Festival unanimous Superior ratings from 2010-2019. During that same time period there were also Superior ratings at the California Music Educators concert Band Festival.
If you were to ask him where the success comes from, Lesser would say, "I have had great teachers, great mentors, and great colleagues! Dr. Lawrence Sutherland, Allan Kristensen, Ramiro Barrera, and Key Poulan are educators who drastically shaped my philosophy and approach to teaching. Along with the other numerous colleagues and educators I have learned things from along the way. I believe strong fundamental training leads to some of the most artistic performances. I surround myself with great people. I search for new ways to learn and improve my musical and teaching skills. I don't settle. I don't take no for an answer. There have been numerous times when I have set goals for myself and my bands before I had a clear path on how we would achieve them. In those moments I decided to jump off the cliff and figure it out on the way down. I also believe what John Wooden said, "Failing to prepare is preparing to fail".
Lesser explains his philosophy this way,"I am passionate about music and I am passionate about educating all students to have a lifelong appreciation and love for the arts. Taking words of wisdom from our founding Clovis Unified School District Superintendent, Dr. Floyd Buchanan I believe as he did that, "It is people. Not programs." "I believe in a fair break for every kid". "It is important to teach students to win with class and lose with dignity". "Kids are sponges so regarding their education, dig deep and sow slow." One of the most continued joyous parts about being a high school band director is teaching students to do things they never thought the could do. I love listening to concerts of our ensembles when our students have transcended their age sounding much more mature than they should for a high school student. Music serves as an artistic outlet but also allows us to prepare our students for success by instilling values learned through hard work, determination, that shapes them in to great people and citizens of the world. It is all of our jobs to be ferocious advocates for the arts."