A special award of
The John Philip Sousa
Foundation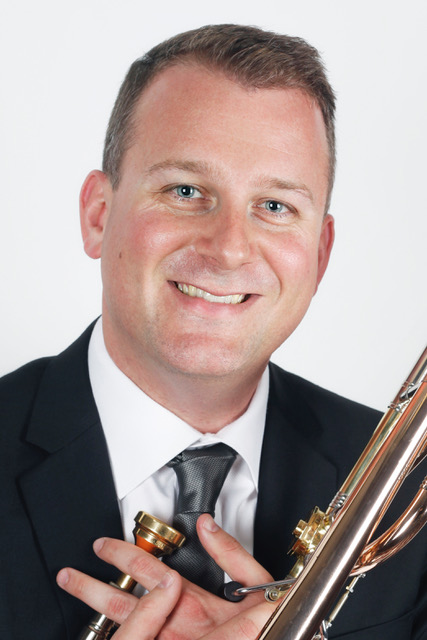 Craig Bryant has ben the Director of Instrumental Music at Albany High School in California since 2007. Before that he served as the Director of Bands at Cunha Intermediate School in Half Moon Bay, CA. His BM in Trombone Performance is from Indiana University; his Masters of Music Education  is from Boston University.
When asked about his philosophy Bryant says, "My greatest strength as a music educator is the ability to share my enthusiasm and passion for music with students. My philosophy reflects a clear focus on helping students find success at any level of skill, and to provide them with the knowledge and desire to have music be a part of their lives long after their time as my student comes to a close. While maintaining high-level performance groups is always a goal , it is also my belief that music education in the school curriculum can provide a meaningful aesthetic experience for everyone through performing, listening and exploring. My teaching focuses on the underlying principle that music education allows for experiences, reflection and expression that no other subject can offer."
The Bandworld Legion of Honor was established in 1989 to honor, over the course of a year, eight of the finest band directors in our business.

Recipients have taught for at least fifteen years, have maintained a very high-quality concert band program, and have contributed significantly to the profession through dedication to bands and band music.

Each is honored at the annual Sousa Foundation awards ceremony during the Midwest Band Clinic in Chicago, Illinois.

Chairman of the Legion of Honor Committee is Terry Austin, Virginia Commonwealth University.
Bryant has given back to his profession by serving as the CMEA Bay Section Band Rep, Secretary of the CA Alliance for Jazz, and the CMEA Bay Section Area Rep. He has received personal honors such as being named conductor of the CA All-State Jy. High Jazz Band in 2015, the NBC Sports Bay Area All Star Teaching in 2018, and the CMEA Paul Shaghoian Jazz Educator Award in 2020.
His groups show great skills as they have received Superior ratings at the CMEA Bay Section with both his Wind Ensemble and his String Orchestra. They have also performed at several invitational unrated festivals including jet Chabot College and the Sonoma State Invitational.
Having music teachers for parents may have made his decision easier as he says, "The single most important factor in shaping my career was having my parents as my high school band and choir teachers as a student. I was inspired by them to join the profession, and they continue to support me with a friendly ear and advice when needed. They instilled in me a high standard of musical excellence and strong work ethic. They were amazing music educators. Secondly, moving to California and being able to build my own network and independent identity as a music educator confirmed my passion for the profession, and that I could have a positive impact on students in the classroom . The support of my colleagues and the professional relationships I've made along the way have been critical to my success and growth."