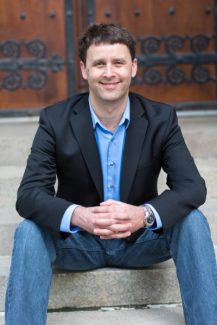 These originally appeared as blog posts on andrewhitz.com
As the result of great teaching, I was required to do a number of things in college that directly prepared me to succeed as a professional musician. Here are five of those things that helped me to be prepared when my phone first started ringing.
Practice Sight-Reading
The skill I developed during college from which I have profited the most is practicing sight-reading. As with many musicians who got their "break" from being a sub, I didn't have much time to be able to prepare for my first ever gig with Boston Brass. Filling in for someone in an emergency is by far the most frequent reason for someone getting a call to sit in with an ensemble, large or small. And most emergencies don't happen well in advance!
In January of 2000 my graduate school teacher, Sam Pilafian, got a call from a member of Boston Brass explaining that their tuba player had become very ill and couldn't make their trip to Colorado to perform at the CMEA. They called to check his availability. Luckily for me Sam was busy, and he gave them my name along with a strong recommendation. He later told me he mentioned to them that I was professional and could sight-read anything. I got the call at 10 pm and was checking in at the airport to fly to Colorado at 5 am the next day.
My ability to sight-read well came from years of practice at the insistence of Rex Martin during my time at Northwestern. I have an amount of respect for Mr. Martin that I could not possibly put into words in an article. The thing I am most thankful for from his tutelage was his insistence on me improving my sight-reading skills.
He asked me if I practiced sight-reading regularly. I told him I did. He then asked me if I borrowed music from other students who played a variety of instruments on a regular basis. He then simply smiled and said that I needed to work on my sight-reading every single day.
It was very easy to simply knock on the practice room door next to mine and ask that person if there was an etude book I could borrow for 10 minutes. The key to practicing sight-reading is to open the book, look at the page for 30 seconds, and then play it down from top to bottom. Do not stop for any reason at all. Remember above everything else that you are making music, even when reading something for the first time.
Musicians are storytellers. Sadly, most musicians tell an incredibly boring story when sight-reading, even when they are hitting all the right notes and playing all the right rhythms. Most musicians sound like they are simply doing a math problem when they sight-read. I was made to always begin saying something musically.
By regularly sight-reading music from other students and holding myself to an incredibly high standard I began to improve at a very rapid rate. Sight-reading started to become a strength. There is not a faster way that I have found in over 20 years of teaching to get a kid to stare at the floor and slouch their shoulders than asking them if they are good at sight-reading. This is an opportunity! You can make sight-reading a calling card! This might be the fastest way to separate yourself from the pack. If you develop a reputation while you are still in school for being able to sight-read anything, you will reap the benefits later in your career, either as a teacher or a performer.
Finally, if you are reading this and thinking "but I hate sight-reading," keep one thing in mind: rarely do people hate performing tasks they are good at! The more proficient you become at something, the more you will enjoy it. Practice sight-reading regularly and you will be very happy with the results. My job with Boston Brass for 14 years was a direct result of my ability to sight-read in many different styles in front of 1200 music educators that night in Colorado – and that all came from lots and lots of practice.
(Thank you Mr. Martin!)
See Lots of Live Music
Any music student knows it is his or her job to listen to music. This will not be news to anyone. Along with practicing, this is the most basic level of homework for any musician. Listening to great music reminds us of two things: what is possible and why we do what we do. These are great lessons even the best musicians in the world must be reminded of from time to time. Listening to music live is the best way to learn these lessons.
Seeing live performances has been a passion of mine from a very early age. While listening to a recording of great music is a wonderful and valuable experience, there is something special about watching that music being made right in front of your eyes.
Any great performance I have experienced is a conversation between the artist and their audience. The conversation may look quite different at a Larry Combs recital than it will at an AC/DC concert, but they are both conversations. All great performers feed off of the energies of both the audience and the moment. This is something that is very difficult to write or talk about and yet incredibly easy to understand when experienced.
Seeing live music is the best way for music students to be reminded that their performances are in fact collaborations with both their fellow performers and the audience. My number one criticism of students performing juries tends to be that they are not speaking to me as an audience member. Many students, through lack of experience, walk on stage and have a musical conversation with themselves while the faculty watches. Frequently, the conversation doesn't even include the piano player!
During my time at both Northwestern and Arizona State, I literally saw a few hundred live concerts. Some of them were life changing, like the first time I saw the band Phish. Others were average at best and nothing that I ran home to tell my roommates about. At one point in my life, I felt that only witnessing great music would directly influence my musical personality in any significant way. This is not true! Every time I hear anyone play any note or phrase I am filing it away under something I want to sound like or something I don't want to sound like. A bad performance can only reinforce your musical opinion and that is a very good thing.
I also found it beneficial to occasionally take a step back and analyze a performance for such things as programming, stage presence, program notes, etc. You can use all of that information, both good and bad, to help you with everything from how you conduct yourself in a jury to how to plan a recital program. The best performers in the world have put a lot of time and thought into every aspect of their performance. This is much easier to experience and truly grasp in a live setting than by reading about it in an article like this!
Finally, money is certainly tight for just about any college student. But if you aren't doing your homework, someone, somewhere, is. I made some sacrifices in college that enabled me to spend quite a large percentage of my disposable income on seeing live music. This included occasionally traveling a very long distance to see it as well. My first trip to the New Orleans Jazz and Heritage Festival was three days that shaped my musical personality in ways that cannot be described. Sure, I was eating bagels without cream cheese and steamed broccoli with rice for a month afterward because I was so broke, but I would do it all over again a thousand times over! Sitting ten feet away from Lionel Hampton was worth checking the couch for loose change when I got home!
GO SEE LIVE MUSIC!
Treat Every Rehearsal and Concert Like It's a Paying Gig
One of the best things that both Rex Martin and Sam Pilafian did for me when I was in college was preparing me for that scary three word phrase that collegiate music teachers like to throw around to scare their students: the real world.
The professional music world is an incredibly straightforward one in almost all respects. There is no secret to unlock that enables you to function in this business. The good news is that almost all of it is simply common sense. But this straightforward world is incredibly unforgiving when you mess up. There are now a greater number of highly qualified players to take your place if you are not getting the job done than at any time in history. That means you not only have to play well, but also need to be the consummate professional to put yourself in the best position possible to get or keep gigs.
The list of things that you have to do is quite simple and well known. The challenge is fully implementing this list while you are still in school. It is very difficult to flip a switch the moment you are handed your diploma and suddenly start acting like a professional.
How you treat rehearsals and concerts is only a part of what goes into being a professional but it is certainly one of the most important. A college student should never walk into a rehearsal or gig the moment it is scheduled to begin. If you do that on a professional gig you won't ever be called again. Are you the person who has a pencil at every rehearsal or are you the one that asks the guy next to you to use his 20 times a rehearsal? Are you the person who forgets his bow tie? If you are using an excuse for being late to a rehearsal would you use that same excuse if the rehearsal was with the New York Philharmonic or would you find a way to get there? Would you have practiced more for a rehearsal if you were subbing with the Boston Brass?
The reputation you develop while you are in music school, good or bad, will follow you for the rest of your career. Music has always been a word of mouth business. People will only recommend you to a colleague when they know that you will play well and be a professional. Otherwise, it will reflect poorly on them for making the recommendation in the first place.
Rex Martin taught me a valuable lesson my sophomore year. One morning I went to take a shower and accidentally locked myself out of my room wearing nothing but a towel in the middle of a Chicago winter (sorry for the visual.) I called the RA on duty and got an answering machine. I then called Mr. Martin to explain that I would possibly be late to brass choir rehearsal, which was starting 25 minutes later. I gave him the full story with every single detail and apologized for possibly being late. He then calmly said: "See you at 12:15 sharp."
At this point I sprung into action, determined to get there just to show him that I could do it. I borrowed my neighbor's clothes (who was a full 8 inches shorter and at least 2 shoe sizes smaller than me!) and ran, without a coat, across campus to interrupt my roommate's music theory class to get his key. If I had been going downtown to sub with the Chicago Symphony, I would have done that before calling and explaining that I might be late. Mr. Martin made a truly lasting impression with me that day. He walked in at 12:15 to lead the rehearsal, looked back and saw me seated, and gave me the smallest nod you can imagine.
The sooner you can treat all playing engagements of any kind like gigs, the better off you will be when you enter the real world.