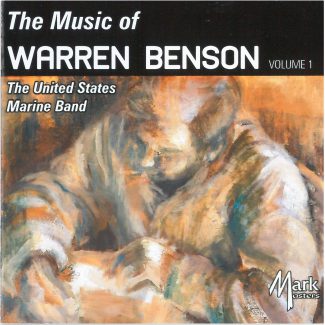 by Warren Benson
Album Title: THE MUSIC OF WARREN BENSON, VOLUME 1
Recording: The United States Marine Band
Conductor: various conductors
Publisher: MARK Masters 54501-MCD
Contents: Volume 1:
Transylvania Fanfare
Adagietto
The Solitary Dancer
Daughter of the Stars
Symphony for Drums & Wind Orchestra
The Passing Bell
The outstanding band/wind ensemble compositions of Warren Benson have rightfully gained worldwide acclaim in the repertoires of the finest music groups. This CD does not focus on the fine instrumental solos with band (such as Helix for Tuba & Band) but includes some rarely heard performances of Benson's most mature compositions. The two most familiar Benson works are on separate recordings; The Solitary Dancer with its intricate motion and The Leaves are Falling, a highly emotional composition that requires ultimate precision. The United States Marine Band gives Benson's music the quality performance it richly deserves.