A special award of
The John Philip Sousa
Foundation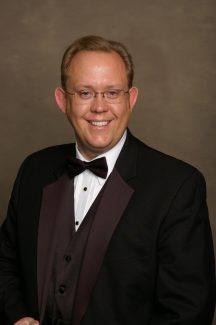 Tracy Wright has been the Director of Bands at Ringgold High School in Ringgold, Georgia since 2016. Starting in 1993,  he had been the Director of Bands at Ringgold Middle School.   Since 1994, his bands at the middle school and high school have consistently earned superior ratings at festival. He has served as an adjudicator and honor band conductor throughout the United States and in Australia.
Having graduated from Ringgold High School, he completed his undergraduate degree at Jacksonville State University and Master in Music at the American Band College.
There have been many factors that have helped shape
The Bandworld Legion of Honor was established in 1989 to honor, over the course of a year, eight of the finest band directors in our business.

Recipients have taught for at least fifteen years, have maintained a very high-quality concert band program, and have contributed significantly to the profession through dedication to bands and band music.

Each is honored at the annual Sousa Foundation awards ceremony during the Midwest Band Clinic in Chicago, Illinois.

Chairman of the Legion of Honor Committee is Terry Austin, Virginia Commonwealth University.
Mr. Wright's career into one that exhibits consistent and deliberate work. "From an early age, my father demonstrated and expected a disciplined work ethic. My high school band directors taught me a love of music and showed me how teaching band could be a satisfying and rewarding career. Dr. David L. Walters, Dr. Ronald C. Attinger, and M. Scott McBride at Jacksonville State University in Jacksonville, AL gave a first-generation college graduate an opportunity that opened doors and allowed me to start an exciting teaching career. M. Max McKee of the American Band College has been the greatest influence on my vocation. My time as a student at ABC followed by my current tenure on the operations staff of both ABC and the Western International Band Clinic have truly changed my teaching philosophy, habits, and focus as a music educator."
As a music educator, his goal is to instill in each of my students an appreciation for the art of music and a respect for the science of music. "I want them to experience the connection and beauty that occurs when creating music, but also understand how their hard work and diligence transcends the field of music and reaches into their everyday life."
Mr. Wright believes that music is the crossroads where all other academic areas meet and should be a required part of a basic education. Music facilitates learning in other subject areas as well as teaches skills such as creativity and flexibility. As future employers look for more creative and innovative thinkers, music classes will provide these increasingly valuable assets.