A special award of
The John Philip Sousa
Foundation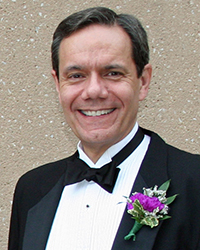 John Cisetti is the District Band Director for Louisburg Unified School District #416 in Louisburg, Kansas. This involves all of the bands in the district in grades 5 through 12. The incredible thing is he has been doing this for his entire career. He teaches at Broadmoor Elementary, Louisburg Middle School, and Louisburg High School.
Cisetti did all of his schoolings at the University of Missouri – Kansas City. There he earned his Bachelor of Music Education, his Master of Arts and his Education Specialist Certificate.
In 2000 Cisetti was named Louisburg Master Teacher of the Year. In 2001 he was a semifinalist for Kansas Teacher of the Year. In 2015-16 he was named Outstanding Band Director of the Year by the NE Kansas Music Educators Assoc.
The Bandworld Legion of Honor was established in 1989 to honor, over the course of a year, eight of the finest band directors in our business.

Recipients have taught for at least fifteen years, have maintained a very high-quality concert band program, and have contributed significantly to the profession through dedication to bands and band music.

Each is honored at the annual Sousa Foundation awards ceremony during the Midwest Band Clinic in Chicago, Illinois.
Chairman of the Legion of Honor Committee is Terry Austin, Virginia Commonwealth University.
He has served his profession by serving on the Board of Directors of the Kansas Bandmasters Association. He also has served as the President of the Louisburg Council of the Arts
Cisetti's high school ensemble has received a First Division Rating in every year except one since 2007. During that same stretch of time, his middle school ensemble has also earned straight first division ratings.
He relates one special moment,"I had the rare privilege of leading my band in "Taps" over the grave of John Philip Sousa using Sousa's baton as the wreath was presented to Capt. Fettig, who placed it at the monument. The baton was then passed to my assistant director, Dean Davison, who conducted Sousa's "High School Cadets." A baton, of course, is but a piece of wood. The magic is when it is used to lead young musicians as they bring the music to life. This is the real thrill and the real honor for any band director. After the ceremony, Mr. Pugh carefully returned the fragile, old baton to its case where it waits to bring life to the music again."
"But the lessons of band go beyond music. In band, students work together on a complex project with many different parts to produce a product in which they can all take pride. America needs citizens who have that collaborative, creative skill set in order to be successful in the modern, competitive world."