Introduction
When traveling with a saxophone, there are several factors that saxophonists should carefully consider in order to arrive prepared for the performance. Keeping the instrument protected, packing the appropriate accessory equipment and knowing how to board an aircraft are all important aspects of traveling with a saxophone.
Saxophone Gig Bags
One of the most important factors when traveling is to keep the instrument protected. There are many saxophone gig bags and cases currently being manufactured, all designed to offer protection, convenience and style to some degree. When performing locally, the method of transporting a saxophone is not nearly as important as when traveling longer distances since the performer has more control over how the instrument is handled and the time traveled is usually short. However, when traveling longer distances, there is a greater chance of instrument damage due to increased travel time and less control over the instrument, especially when using public transportation.
When selecting a method to store and transport a saxophone, the first decision to be made is whether to purchase a gig bag or a hard shell case. Gig bags are soft-sided, thickly padded bags designed primarily for convenience and style. These bags are lightweight and have a soft, durable outer shell constructed of nylon, cordura, or leather. They are held closed with dual zippers and designed with shoulder or backpack straps in addition to handles, making them easy to carry. Gig bags are also contoured to fit the form of the saxophone, which makes them small but also have built in pockets to store accessories. Prices for gig bags range from those made of inexpensive nylon to more expensive ones made of leather.
Perhaps the biggest advantages to using a gig bag is its weight and the way it is carried. Anyone who frequently travels will appreciate a bag that is lightweight and also equipped with a shoulder or backpack strap, putting the weight on the back and shoulders while freeing the hands to carry other items. The biggest disadvantage to using a gig bag is protection. Since the bag is has a soft outer shell, the only thing protecting the instrument is the thick foam padding sewn in the lining. While this foam may protect against minor bumps, the chance of the instrument being damaged by a major bump, by being dropped, or by something falling on it is greatly increased. Therefore, when using a gig bag, the saxophonist must be very diligent in overseeing the handling of the instrument.
Saxophone Cases
Saxophone hard shell cases are designed primarily for instrument protection but also include other features such as pockets for storage and various approaches for carrying.
Hard shell cases are constructed with a variety of rigid exteriors, one of which is wood covered either with vinyl, nylon or cordura. Other exteriors are made from polyethylene, or ABS, which is a strong, temperature-resistance plastic that is colorfast and easy to mold. Hard shell cases can be contoured with shoulder or backpack straps or rectangular in shape with brief case style handles. If a hard shell case in contoured, storage room may be limited. However, a cover can be purchased for many of this cases that will allow the performer additional storage pockets for accessories. Other options included cases that are closed with dual zippers or latches and some are even designed with wheels and a telescoping handle.
Like gig bags, hard shell cases range in price for inexpensive wood and vinyl construction to more expensive ABS exteriors. The biggest advantage of hard shell cases is the protection they provide. With their rigid exteriors, hard shell cases provide much more protection and peace of mind than gig bags. The biggest disadvantage is the issue of weight. Even when carrying these cases with a shoulder or backpack strap, there is a noticeable difference in weight from that of a gig bag.
Before selecting either a gig bag or saxophone case, performers should carefully consider their performance needs. If traveling only limited distances to performance venues where saxophonists can monitor their instrument at all times, using a gig bag should be fine. However, when traveling longer distances or in situations where the instrument cannot be personally monitored, a contoured hard shell case is high recommended. Even though this may be less convenient due to the additional weight, it is well worth the extra effort to arrive at the performance with an instrument that is not damaged.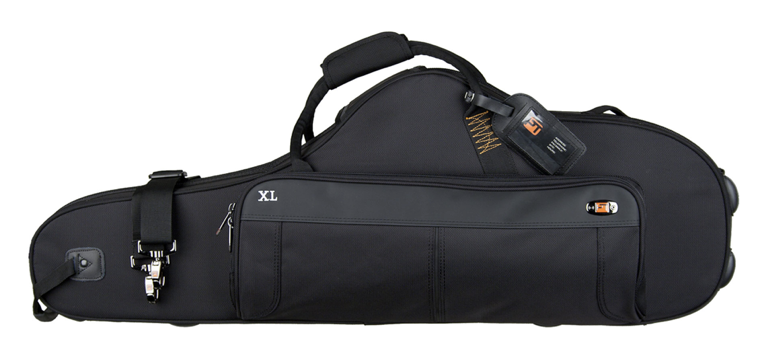 Protec Contoured Sax Case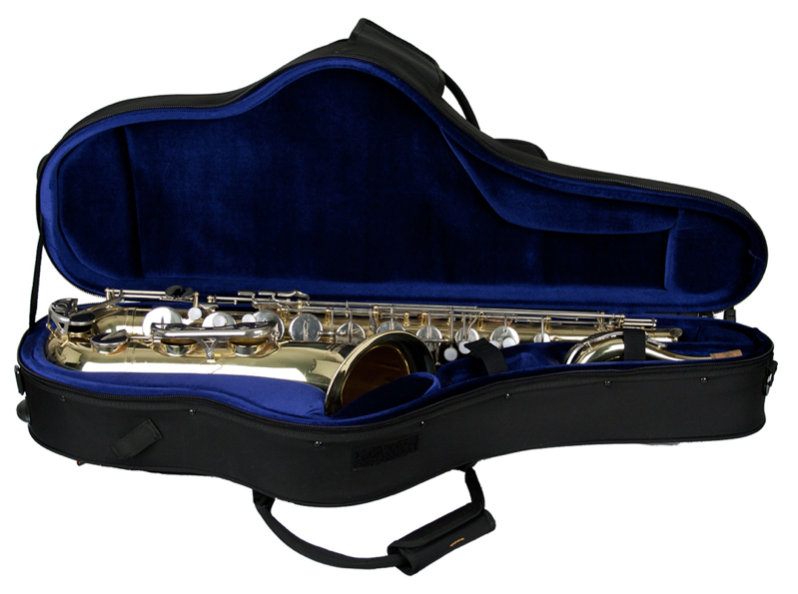 Protec Sax Contoured Case Interior
Items to Keep in the Saxophone Case
When traveling, saxophonists must be prepared for unexpected events that could have a negative impact on a performance. Just before going on stage and even while on stage, equipment failure could happen and unless the saxophonist is prepared, the performance may have to be delayed or halted altogether. Although some emergencies cannot be solved no matter how much a performer is prepared, by carrying certain items in their case, saxophonists may be able to overcome an unforeseen predicament without any negative consequences occurring.
Items that should be carried pertaining to reeds and reed adjustment are a reed clipper to adjust reeds that are too soft, reed rush, fine grain sandpaper and a reed knife to adjust reeds that are too hard, a small plastic film canister for soaking reeds, at least eight reeds that are ready to play stored in a reed guard and a box of reeds.
Other items that are extremely important are two completely assembled mouthpieces with ligatures and reeds, two neck straps, cork grease, a pencil, a set of ear plugs and a small screwdriver for instrument adjustment. By carrying these items, saxophonists know they are doing everything possible to avoid performance problems allowing them to think about more important issues such as making music.
Boarding an Aircraft With a Saxophone
On occasion, saxophonists may need to fly to a performance venue when it is not practical or convenient to drive. Saxophonists should always attempt to bring their instrument on board with them as carry-on baggage since allowing it to be put underneath the plane as checked baggage will almost certainly guarantee that it will be damaged. However, with increased airport security and new airline baggage policies, attempting to board an aircraft with a saxophone can cause problems for the performer. Fortunately, through careful research and planning most issues can be avoided.
Types of Larger Aircraft
When planning a flight, it is very important for saxophonists to know the type and size of aircraft they will be traveling on during each leg of their journey since carry-on baggage policies vary from one aircraft to another. This information is posted as part of the flight itinerary and can be easily viewed when browsing for possible flights on an airline's website. Larger aircraft usually pose no problems for saxophonists choosing to carry-on an instrument, unless it is a baritone saxophone, and should be used whenever possible. These aircraft are the Airbus A319, A320, A330, Boeing 737, 747, 757, 767, 777, McDonnell Douglas MD 88 and MD 90.
Carry-On Baggage
Before booking a flight, saxophonists should review the carry-on baggage restrictions for the airline planning to be used. Most airlines have information on their website devoted to this topic with special information regarding musical instruments. Passengers are allowed one carry-on bag and one personal item such as a briefcase of laptop computer. Carry-on baggage cannot exceed 22" x 14" x 9" on larger aircraft which allows guitars and smaller musical instruments to be brought into the cabin. Soprano and alto saxophones are allowed as carry-on baggage due to their small case size and tenor saxophones are allowed as long as they are transported in a contoured saxophone case.
Types of Smaller Aircraft
When flying to or from cities where passenger numbers are less, airlines use smaller aircraft for some flights depending upon the flight schedule. Smaller planes are most often used for very early or late flights while larger aircraft are flown at more popular flight times. This information is important because smaller planes have more restrictive carry-on baggage policies, which could present a problem to a saxophonist traveling with an instrument. Since these aircrafts are smaller, only items such as small backpacks, brief cases and laptop computers are allowed in the cabin. Bags that are normally allowed as carry-on items on larger aircraft, including saxophones, are not allowed in the cabin and are required to be gate checked. These smaller planes, which should be avoided if possible when booking a flight, are the Canadair Regional Jet 200 (CRJ), 700 (CR7), 900 (CR9), Embraer 145 (ERJ), 170 (E70), and 175 (E75). When flying to cities where smaller aircrafts are used, the saxophonist should carefully examine the flight schedule and try to avoid booking flights that use smaller planes. Sometimes by arriving or departing at a slightly different time, the performer can travel on larger aircraft and avoid carry-on baggage problems.
Gate Checked Bags
Gate checking a bag refers to taking a carry-on item, labeling it with a special tag and checking it in at the gate just before boarding the aircraft. Gate checked bags are placed underneath the plane by airline personnel and do not travel on a conveyor belt like other large bags checked at the airline ticket counter. When arriving at the final destination or when connecting to another flight, the passenger picks up a gate checked bag at the gate immediately after exiting the aircraft.
Even though gate checked bags are not treated as roughly as large bags checked at the airline ticket counter, there is still a risk of the instrument being damaged. Once the instrument is turned over to baggage handler at the gate, the saxophonist has no way to monitor the way it is handled. Saxophonists traveling with an instrument in a hard shell case might be able to sustain no instrument damage but if a soft shell gig bag is used, major instrument damage is likely. Saxophonists should avoid having their instrument gate checked if possible by booking flights that use large aircraft.
Selecting Seats and Packing for Travel
When selecting seats for the upcoming flight, the performer should choose a seat close to the rear of the aircraft since in many instances the plane is boarded from the rear first. By doing this, saxophonists will be one of the first on board, with the exception of business class, and have plenty of overhead compartment to stow their instrument.
When packing for the trip, the saxophone should be placed in a hard shell contoured case equipped with either shoulder or backpack straps. Key clamps should be used to restrict key movement and the instrument should be wrapped in a soft cloth to limit its movement inside the case. Never use a gig bag with a soft outer shell to transport a saxophone when flying. If saxophonists wish to check their instrument as baggage, a heavy-duty Anvil case is highly recommended.
Passing Through Security
When preparing to pass through airport security with a saxophone, the performer can expect to receive extra scrutiny. Many times, an explosive residue test is performed on the saxophone case, especially if flying internationally. This test consists of swabbing the inside of the saxophone case and performing an analysis of the results to see if any explosive material has been in contact with the case. Saxophonists should also remove any reed knives from their saxophone case before leaving for the airport, packing them in their checked baggage. If this is not done, there could be a problem with security since reed knives may not be allowed in the cabin. Screwdrivers for adjusting the instrument are allowed as long as they are not longer than seven inches.
When approaching the gate to board the aircraft, remember that gate agents and flight attendants are the ones in charge of carry-on items and determine what is allowed in the cabin and what is not. Some agents are very strict while others are not. A carry-on item may be allowed on one flight and the same item on the same type of aircraft may not be allowed on another, depending upon the gate agent and flight crew.
When boarding a flight, saxophonists should not draw attention to their instrument.
The instrument should always be carried over the shoulder with a shoulder strap or on the back using backpack straps, hiding as much of the case as possible. Performers should never carry it by the handles at their side as this is easily seen. If a saxophonist is told their instrument will need to be gate checked, permission to carry the instrument on board may be granted by nicely speaking with the gate agent, flight attendant or both before boarding the flight. Explaining to the agent that the passenger is on the way to a performance and the instrument, which is worth several thousand dollars, could be damaged if gate checked, will greatly improve the chances of bringing the instrument on board.
When entering the aircraft, saxophonists should keep their instrument behind them while passing by the flight attendants at the front of the plane. Once this is done, the instrument should be carried in front of the body to further hide it while finding the assigned seat. When reaching the seat, the instrument should be stowed in the overhead compartment, which accomplishes the final stage of boarding a flight. It is hoped that the suggestions provided in this article will allow saxophonists to travel with the least amount of problems while keeping their instrument safe.