A special award of
The John Philip Sousa
Foundation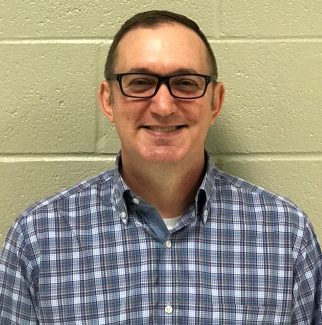 Leslie Gilreath is the Director of Bands at Summerville High School in Summerville, SC., a postion he has held for 17 of his 23 year teaching career.
Some of his most notable honors included Dorchester District Two Honor Teacher of the Year 2011,
Summerville High School Teacher of the Year 2011,
National Band Association Citation of Excellence 2007, and Membership in Phi Beta Mu, National Bandmasters Fraternity.
Mr. Gilreath holds a Bachelor of Music from Furman University.
The Bandworld Legion of Honor was established in 1989 to honor, over the course of a year, eight of the finest band directors in our business.

Recipients have taught for at least fifteen years, have maintained a very high-quality concert band program, and have contributed significantly to the profession through dedication to bands and band music.

Each is honored at the annual Sousa Foundation awards ceremony during the Midwest Band Clinic in Chicago, Illinois.

Chairman of the Legion of Honor Committee is Terry Austin, Virginia Commonwealth University.
When asked what shaped his carrer, he says "Perhaps the most direct factor to shape the course of my life in music was growing up in a home where both my parents were musicians. My mother was the church organist, and my father was a guitar player in both the church and a local bluegrass band throughout my childhood. I was surrounded by music and was playing the piano in church when I was 7 years old. Finding my way into band in the 5th grade, I found that my high school band director, Lane Moore, and my college band director, Jay Bocook who were the role models who would most directly influence my decision to be a band director. Their passion for music and for the people and experiences it allowed became a contagious energy for my own professional desires. My composition teachers, Jay Bocook at Furman University, and Michael Hennagin and Carolyn Bremmer at the University of Oklahoma were very instrumental in giving me the tools to pursue my love for creativity in music making that they had helped foster.  In my early professional life, it was Bill Houston, Principal and my friend Kim Welborn, colleague at Easley High School who had a very real hand in growing my professionalism and the realization of the importance of professional responsibility. In the SCBDA, strong role models like Leslie Hicken, Larry Wells, Jay Bocook, Phil McIntyre, Vince Clayton, Scott Rush, and Sue Alexander were a driving force behind my desire to be a functioning member of the professional music community."
Gilreath believes "that the arts are a vital component in the lives of all people. The connection to a real expressive outlet that knows no regional limitations, that can allow the communication of thoughts past any language, and that gives so many people a real connection to otherwise unexpressed emotions is priceless and irreplaceable. Most importantly, I believe that the people and experiences the arts and music in particular offer are vital to the very survival of some young people. The sense of purpose and commonality they may not otherwise know is very often a saving grace in the lives of young people who may not have any other way to connect in their worlds."