A special award of
The John Philip Sousa
Foundation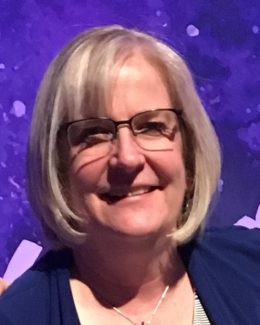 Katherine Van Lare is the Director of Bands at Centennial High School in
Calgary, AB and Jazz Band Director at Holy Trinity Academy.
Van Lare has earned a Bachelor of Music – University of Calgary , Teacher Certification University of Calgary and a Diploma in Fine Arts – Wind Band Conducting University of Calgary.
Just a few of her many accomplishments include 2019 Teacher Speaker at Centennial High School Graduation Ceremony, 2017 Vondis K. Miller Legacy Award presented by the Alberta Band Association, 2012 "Director of the Year" presented by Alberta Band Association and 2011 Director of the Northern Alberta Jr. Honour Band. In addition, she has served on the board of the Alberta Band Association and on the organizing committee of the Alberta International Band Festival.
The Bandworld Legion of Honor was established in 1989 to honor, over the course of a year, eight of the finest band directors in our business.Recipients have taught for at least fifteen years, have maintained a very high-quality concert band program, and have contributed significantly to the profession through dedication to bands and band music.

Each is honored at the annual Sousa Foundation awards ceremony during the Midwest Band Clinic in Chicago, Illinois.

Chairman of the Legion of Honor Committee is Terry Austin, Virginia Commonwealth University.
Her concert and jazz groups have consistently been presented with Gold Awards, a result of two Superior ratings, by the Alberta International Band Festival.
When asked about the most important factors that shaped her career, she responded with:
"Throughout my career I have been fortunate enough to have learned from many wonderful musicians, teachers and human beings.  Clinics, workshops (including Jazz at the Lincoln Center Band Director Academy on four occasions), conferences, and CADME (Calgary Association for the Development of Music Education) have provided me the opportunity to learn from some of the best. These experiences have given me tools and resources to teach music more effectively. My professional playing opportunities have also helped contribute to my own musical understanding and this too has contributed to what I am able to offer my students. While I taught at the junior high level for the first eleven years of my career, I feel like I have done my best work at the high school level. Early in my career I was very focused on teaching music: how to read and interpret musical notation; to develop their playing skills, how to perform well as a group. I have always encouraged them to play the stuff 'beyond the page' and take great pride in knowing that I have always chosen quality repertoire for them. But, since I have been teaching at the high school level, I feel that I am even better able to 'connect' with my students and help them learn more about music and themselves. For the past several years I feel like I've taught kids through music. The music part is a delightful bonus."
Van Lare's philosphy of education can be summed up with four points.
Teach children to love and appreciate music and have a good understanding about it.

Teach children musical literacy and develop their playing skills so they may continue to enjoy playing throughout their lives if they so choose.

Teach children the value of hard work and ownership of their own successes.

Teach children to be good human beings.