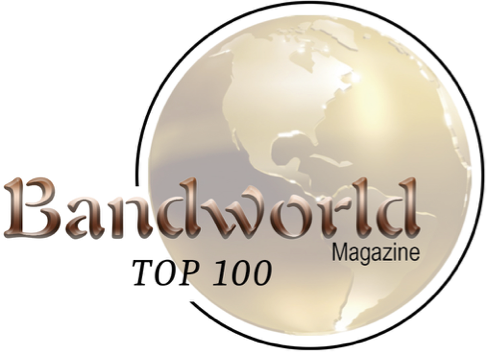 OK, so why write an article about a list? Well, I come from the band director world, and I have referenced this list more times than I can remember. It is quite a valuable tool for directors at all levels to find quality band literature without having to do hours of searches across the internet. Not only does it list the pieces with Title, Composer, Arranger, Grade Level, and Publisher, but you can listen to each piece by clicking on the title. This is a resource that EVERY band director should have bookmarked. Here's a little info about the list.
The Bandworld Magazine Top 100 Project is an ongoing project of the American Band College and Western International Band Clinic. Publishers are asked to submit scores and recordings of works for evaluation by our Board of Directors (ALL of whom are current or former band directors) who screen each composition and rate them for possible inclusion in the Top 100 list. Lists from 2002 through this year are posted here on the Bandworld Magazine website. To date, there are over 2,400 pieces on the lists from over 95 publishers.

One of the many things that make this resource so special is the ability to search in a number of ways. At the top of the screen, you can search by title, composer, arranger, or publisher. The next line allows you to search by grade level and Top 100 year.

So for example, if you are looking for a newer grade 2 piece, click in the grade 2 box, and from the year dropdown select 2022. This will list all grade 2 and 2+ pieces from the 2022 Top 100 list.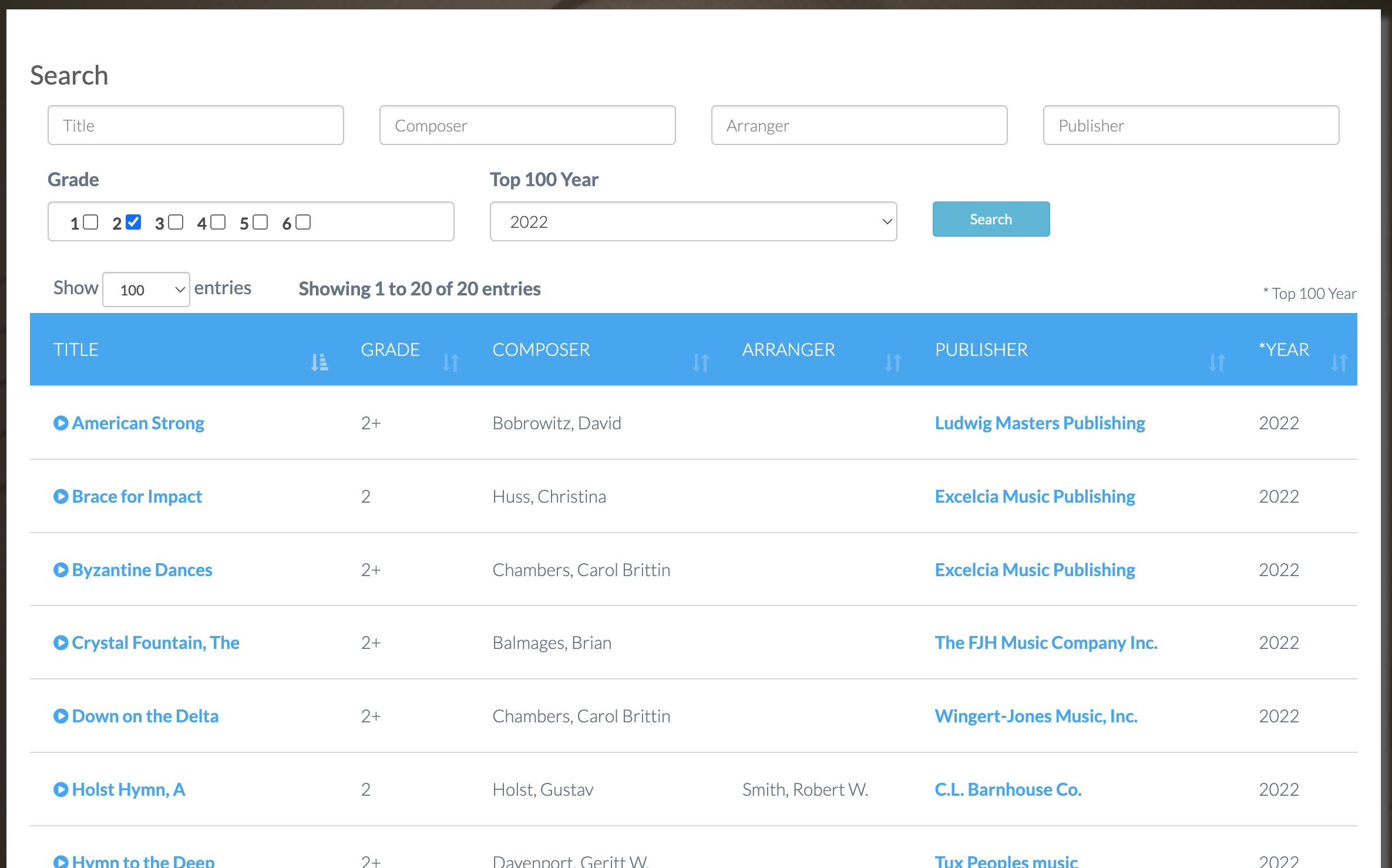 If you want to see all the grade 2 and 2+ pieces that have ever been in the Top 100, select "choose" from the Top 100 year dropdown and every one will be listed.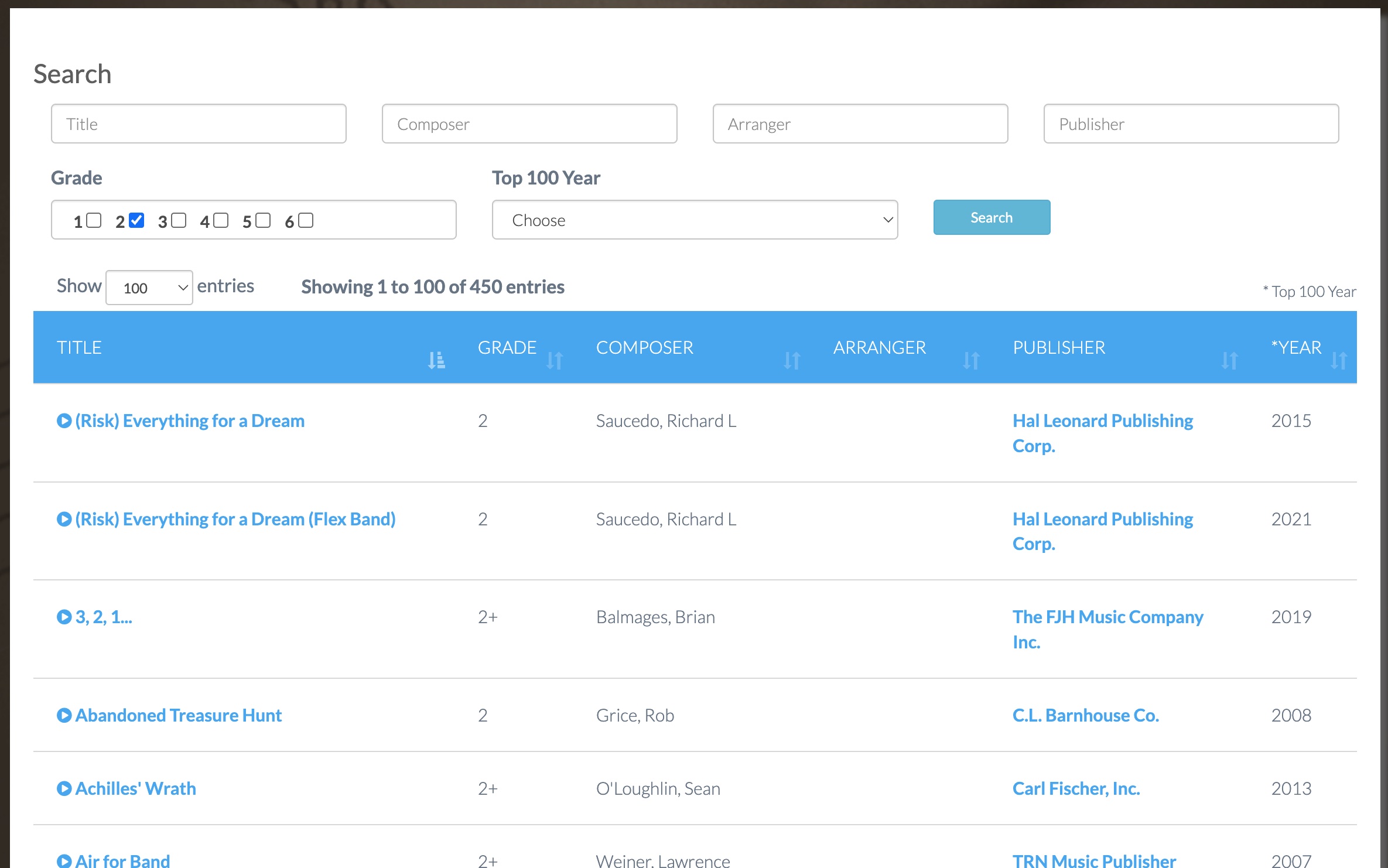 Not only can you search using the boxes at the top of the page, once you retrieve a list, you can sort it by clicking on the column header. Click once for A-Z or lowest to highest, click again for Z-A, highest to lowest.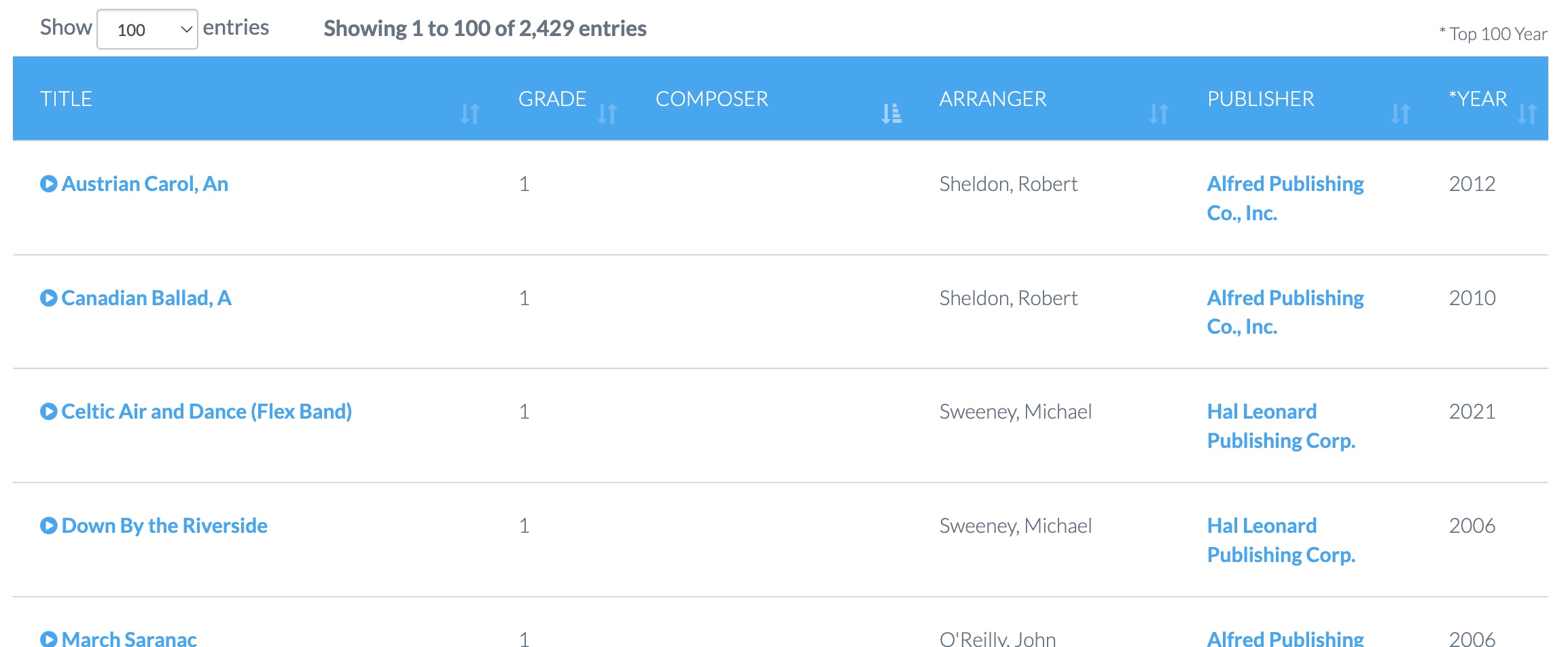 I think you can see that the Bandworld Top 100 list is 'worth its weight in gold' for band directors at all levels. Your assignment for today is to click on the list, look around, listen to some pieces, look for your favorite composers, check out what was hot 10 years ago…just explore! You'll be glad you did.