A special award of
The John Philip Sousa
Foundation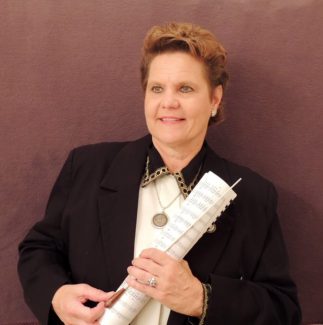 Deborah Bradley has been the Professor of Music at Georgia Military College since 2013. Prior to that, she taught middle school, high school and college throughout Georgia, Alabama and Florida.
Ms. Bradley was named the Teacher of the Year for both the Valdosta Junior High School and Cook County High School as well as system wide Teacher of the Year for the Cook County Schools. 
 The Bandworld Legion of Honor was established in 1989 to honor, over the course of a year, eight of the finest band directors in our business.

Recipients have taught for at least fifteen years, have maintained a very high-quality concert band program, and have contributed significantly to the profession through dedication to bands and band music.

Each is honored at the annual Sousa Foundation awards ceremony during the Midwest Band Clinic in Chicago, Illinois.

Chairman of the Legion of Honor Committee is Terry Austin, Virginia Commonwealth University.
Notable honors include:
The Sudler Order of Merit from the John Philip Sousa Foundation 1986 (presented by Col. George S. Howard)
(OSMA) Outstanding Service to Music Award from the National Board of Tau Beta Sigma Band Fraternity 2001
Induction into the National High School Band Directors Hall of Fame in Columbus, GA 2008
The International Golden Rose Award from Women Band Band Directors International 2016
Key to the City of New Orleans for Outstanding Performance and contribution to the Louisiana World Exposition. 1984
From her earliest memories, she rode her Dad's Band Bus where opportunities to live history and music became my trademark. "Watching a parade while the late President John F. Kennedy waved to the band led me to believe being a band director would help me bring history and music to others. To step higher in the performance of band music, I found myself in the Golden Era of the Band Movement at Troy University where I would soon work with and meet many composers, conductors, and musicians that shaped our Band world. I quickly learned from the best of the best. Dr. John Long, Dr. Paul Yoder, Gladys Wright, Col. George S. Howard, Dr. William Revelli, and many other legends. No doubt the most important piece of music to perform was The Stars and Stripes Forever by Sousa."


When asked about her philosophy, Ms. Bradley responded: "Over the years, my mentors have constantly reminded me that there are two things that separate a successful band and an unsuccessful band. It is perseverance and hard work! What creates a quality band program is being prepared along with showing you CARE. Every student in your band will have a story. We have to keep in mind that we have the next generation of Doctors, Nurses, Builders, Mechanics, and Farmers. However, through band music, I believe we can help them find their purpose and passion. I know I found mine! Importantly, I always choose good literature that is perfect for the student to achieve their ultimate performance goals. A good march, overture and showpiece will instill the confidence they need. I always look forward to being a student's "first light person" through teaching band."