A special award of
The John Philip Sousa
Foundation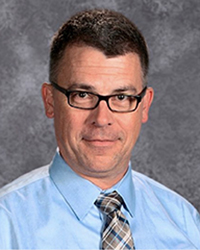 John Bina has served as the Instrumental music teacher at St. Thomas Academy in Mendota Heights, Minnesota for the last six years. This involves concert and, marching band, jazz ensemble, Solo/Ensemble coordinator as well as guitar classes.
Bina earned his Bachelor of Music degree from the University of Wisconsin- Madison. He went on to Virginia Commonwealth University for his MM degree,
Bina began his teaching in 1985 in Manitowoc, Wisconsin, at Roncalli High School. He continued to move west into Minnesota until settling at St. Thomas in 2010.
The Bandworld Legion of Honor was established in 1989 to honor, over the course of a year, eight of the finest band directors in our business.

Recipients have taught for at least fifteen years, have maintained a very high-quality concert band program, and have contributed significantly to the profession through dedication to bands and band music.

Each is honored at the annual Sousa Foundation awards ceremony during the Midwest Band Clinic in Chicago, Illinois.

Chairman of the Legion of Honor Committee is Terry Austin, Virginia Commonwealth University.
In 1991 Bina was named the Teacher of the Year for Tomah, WI. In 2003 he was named Teacher of the Term at Woodbury High School (MN). IN 2015 WCCO-TV named Tina one of their Excellent Educators. He is also a member of Phi Kapa Phi and Phi Kappa Alpha.
He has served his profession in various offices including Minnesota Band Directors Association – regional President from 2012- 2014.
While St. Thomas Academy does not enter competitions they expand their students' experiences by traveling. They have traveled to and performed in London, France, Germany, Austria, and Italy in the past ten years. They also play host to touring ensembles which have included The Dallas Brass.
Bina says, "I have been fortunate in my career to work in communities where students, parents, and stakeholders have high expectations for the arts and high standards for the education of their children. This environment has challenged me to become a lifelong learner to provide the best possible learning environment for our students."
"It is our obligation as music educators to pass along the cultural heritage of our society. The background of the student-ethnicity, socio-economic background, language, level of experience is immaterial. Music connects all students to the past, the present and the future. The knowledge and skills gained in performing arts classes provide them the necessary tools to assist them in facing the challenges of life." That is the guiding philosophy of John Bina.