A special award of
The John Philip Sousa
Foundation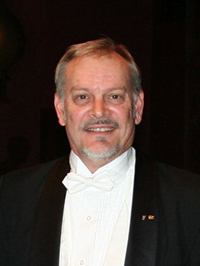 Daniel Wooten is the Director of Bands at Niceville Senior High School in Niceville, Florida. He began at this current position in 2003. Daniel has held a variety of music positions since graduating from Louisiana State University with his BME.
Wooten has served at a variety of high schools in Florida with a ten-year stint in Ohio. He also held the position of Assistant Director of Bands at the University of Louisville and was the Music Outreach Coordinator for the same school.
Wooten is a three-time recipient of the National Band Association's Citation of Excellence.He was named the Florida Bandmasters Association
The Bandworld Legion of Honor was established in 1989 to honor, over the course of a year, eight of the finest band directors in our business.

Recipients have taught for at least fifteen years, have maintained a very high-quality concert band program, and have contributed significantly to the profession through dedication to bands and band music.

Each is honored at the annual Sousa Foundation awards ceremony during the Midwest Band Clinic in Chicago, Illinois.

Chairman of the Legion of Honor Committee is Terry Austin, Virginia Commonwealth University.
Oliver Hobbs Award for recognition of consistent and superior performances and commitment and service to band students. He was also a Grammy Nominated Music Educator Semifinalist in 2013-14. Wooten topped that off by being named
Niceville High School Teacher of the Year for 2015-16.
When asked about things that shaped his life he says, "The unique sum total of my experiences have been a blessing and I believe they allowed me to transmit a love of music and the arts to my students in such a way that I have over a dozen former students who are now music educators." He also considers these experiences to have helped him get many students placed in prestigious universities and conservatories.
Because of his philosophy, he tries "to provide a compelling experience in a safe environment that allows every student to bloom, develop life skills, and become educated consumers of music as well as lifelong patrons of the arts."