A special award of
The John Philip Sousa
Foundation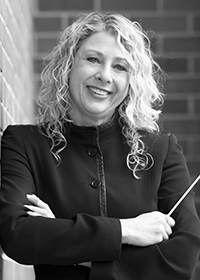 Roberta Baril has been the School Music Director at W.P. Wagner High School for the last 15 years. There is much more to tell about what she does. Through the University of Alberta she also serves as the Facilitator of Field Experiences, the sessional instructor of Teaching Music: Wind Band and is a Field Experience Associate.
She earned both her Bachelors of Music Ed. and her Masters of Music Ed. from the University of Alberta.
Before coming to Wagner she spent 12 years at Steele Heights Jr. HS where she taught nearly everything, including Band, Choir, English as a Second Language, Health, Performing Arts and Language Arts. Baril has been at Wagner since 2001. In 2009 she added the title of Department Head of Fine Arts & International Languages.
The Bandworld Legion of Honor was established in 1989 to honor, over the course of a year, eight of the finest band directors in our business.

Recipients have taught for at least fifteen years, have maintained a very high-quality concert band program, and have contributed significantly to the profession through dedication to bands and band music.

Each is honored at the annual Sousa Foundation awards ceremony during the Midwest Band Clinic in Chicago, Illinois.

Chairman of the Legion of Honor Committee is Terry Austin, Virginia Commonwealth University.
Baril has served on nearly every board that was available in Alberta. She also served in most capacities from Board Member to Chairman of Honour Bands and in 2009 she was named chair of the Music Advocacy Committee, Coalition for Music Education in Canada.
As would be expected her bands have many Adjudicator's Awards, first places and Superior Awards from prestigious festivals.
In picking out just a few of the people she credits with her success, she includes,"My students. Quite simply, it has been an honour to play a small part in the lives of such wonderful people. Their kindness, dedication, creativity, and willingness to consistently strive for excellence have shown me that the future of the world is in good hands. This has inspired me to work tirelessly to ensure their success." She also mentions, "My family. Their never-ending support and never-failing patience have allowed me to dedicate a large portion of my life to music education."
When asked about her philosophy she says,"Music is about connections. It connects notes together to form melodies. It connects cultures and allows them to communicate through its shared language. It connects individuals who find common experiences inside its songs. And maybe, most importantly, it connects us to ourselves by giving voice to our innermost thoughts and feelings. It is ironic that we should be so hungry for connections in this electronic age. We seem to be connected all the time through the internet, through our phones and social media. Yet in some ways, we have never been lonelier; music helps to balance that loneliness. Our musical pursuits feed our souls, they make us whole and they allow us to feel. They make us human and, as human beings, they allow us to connect on the deepest level. I believe this is what happens in the band room and it has been a privilege to share in that experience."