A special award of
The John Philip Sousa
Foundation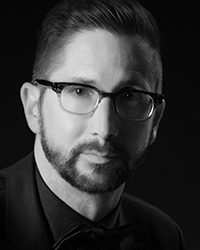 Jonathan Grantham is the Director of Bands at Amador Valley High School in Pleasanton, California, a position he has held for the last 15 years.
Grantham earned his BME from Central Michigan University and went on to earn an MM in Conducting from the American Band College.
Grantham began his career in Michigan as the 5-12 grade Director of Bands in Sanford, Michigan. He spent two years in that position before moving to California and his current position.
The Bandworld Legion of Honor was established in 1989 to honor, over the course of a year, eight of the finest band directors in our business.

Recipients have taught for at least fifteen years, have maintained a very high-quality concert band program, and have contributed significantly to the profession through dedication to bands and band music.

Each is honored at the annual Sousa Foundation awards ceremony during the Midwest Band Clinic in Chicago, Illinois.

Chairman of the Legion of Honor Committee is Terry Austin, Virginia Commonwealth University.
Grantham has been awarded the Pleasanton School District Teacher of the Year Award in 2013. Twice he was named the Pleasanton Excellence in Education Award Winner (student/parent nominated). In 2015 he was named the CMEA Band Director of the Year.
He has served as the Western Band Assoc. President, Vice-President and Past President. He was also the CMEA Bay Section Recording Secretary for five years.
Grantham's groups at Amador display their excellence having performed at The Midwest Clinic in 2013; the WASBE Conference in 2015; All-State Music Conference in 2006, 2010, and will again in 2018. 2018 will also find the group performing in Carnegie Hall.
When asked about what shaped his career he says, "The first significant factor is the guidance of my mom and dad. They were unwavering in their support of my aspirations and dreams growing up. Though we did not have a lot of money, they worked very hard to provide me with as many opportunities as they could afford. They drove me all over the state for honor bands, private lessons, and performances. They never really told me "no" when an opening presented itself. This shows up in my teaching because I believe in creating "yes" moments for my students just like my mom and dad did for me." He continues to show his humility by adding,"While I am proud of the many things I have been able to do in my career, it really is not so much about me and what I have done. It is because of others that I am where I am today. I have been shaped time and again by the guiding, loving hand of so many family, friends, and mentors. My story and my career are the combined result of 100's of caring people who took the time to help me and shape me as a person and as a teacher. There are so many more names, too numerous to mention."
His philosophy goes like this, "Every student deserves the opportunity to belong and to experience the thrill of musical expression. Every student has value and worth and has a place in my classroom. Every student has the right to a safe and inclusive learning environment. Every student is a chance to create a kinder, more perceptive world. Music is a tool for all of these things and more."