A special award of
The John Philip Sousa
Foundation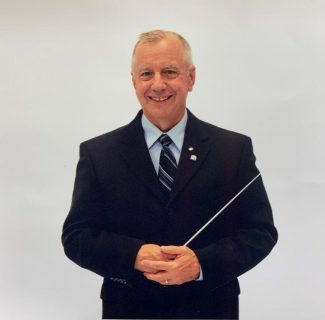 Zach Williamson has been the director of bands at Roane County High School for the last 32 of his 35 year teaching career.
Under Mr. Williamson's leadership, the bands at Roane County have received superior ratings in Grade VI at ETSBOA's Concert Performance Assessment 2009-2017.
The Bandworld Legion of Honor was established in 1989 to honor, over the course of a year, eight of the finest band directors in our business.

Recipients have taught for at least fifteen years, have maintained a very high-quality concert band program, and have contributed significantly to the profession through dedication to bands and band music.

Each is honored at the annual Sousa Foundation awards ceremony during the Midwest Band Clinic in Chicago, Illinois.

Chairman of the Legion of Honor Committee is Terry Austin, Virginia Commonwealth University.
According to Principal, Kent Millsap, "Zack is an irreplaceable member of our faculty and is a great example of a loving, caring, and driven band director. He is a veteran of the U.S. Air Force and proudly represents our armed forces on every occasion that he can.'
Notable honors include:
President of Tennessee Bandmasters Association
Induction into Phi Beta Mu
Selected to perform at Tennessee Music Educators In-service Conference 2000, 2009, 2019
'Being a second-generation band director, I had the distinct privilege of watching my father run a successful band program. I learned from him and my college band director, Dr. W. J. Julian, that the most important factors in being a successful band director are to seek out mentors and to have the most qualified people in your band room. I have never been afraid to ask for help and to have other people in front of my bands. Some of my mentors include Dr. Ric Best, Roy and June Holder, Dr. John Culvahouse, and Joseph Herman. They have been regular visitors in my band room throughout my career. I have had the honor of having many other directors and conductors work with my band such as Colonel Thomas Rotandi Jr., Joel Denton, Colonel John R. Bourgeois, Dr. Mary Schneider, Dr. Barry Krais, Dr. James Taylor, Robert W. Smith, Dr. Gary Sousa, Dr. Edwin Powell, and Dennis Zeisler to name a few. I would be remiss if I did not mention that much of my success is due to my supportive wife and family.'


When asked about his philosophy, Mr. Williamson responded: "I have spent my entire career in a small rural school, which has played a large part in shaping my thoughts on how I teach and what I think about music education. Every aspect of the school and community involves a band student in some way, so it becomes essential to instill in the students the importance of being a part of something bigger than themselves. I believe in the whole child and want them to grow in all aspects of life by pursuing excellence in band, school, sports, and supporting their community. It is my hope to give students the skills necessary to succeed in whatever career path they choose for their life and give them a lifelong appreciation of music."
'Band students work towards a goal of producing exceptional music, but the most important part is the process leading up to the performance through the exposure to quality band literature. To me programming is everything. I am a firm believer that you should perform transcriptions, marches, solo works, standard band literature, and contemporary pieces."