A special award of
The John Philip Sousa
Foundation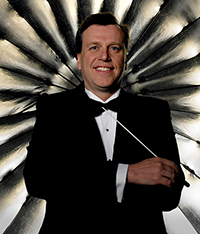 Kenneth Rogers has been the Band Director at Lethbridge Collegiate Institute in Lethbridge, Alberta, Canada since 2007. Prior to this position, he has done it all from an itinerant music teacher to a sessional instructor. He has worked from the middle school to collegiate levels.
Rogers has earned his Bachelor in Music; Bachelor in Education and a Diploma in Fine Arts.
He has served his profession by serving as the Vice-President of the Canadian Band DIrectors, the President and Currently Past President of the Alberta Band Association.
The Bandworld Legion of Honor was established in 1989 to honor, over the course of a year, eight of the finest band directors in our business.

Recipients have taught for at least fifteen years, have maintained a very high-quality concert band program, and have contributed significantly to the profession through dedication to bands and band music.

Each is honored at the annual Sousa Foundation awards ceremony during the Midwest Band Clinic in Chicago, Illinois.

Chairman of the Legion of Honor Committee is Terry Austin, Virginia Commonwealth University.
In 2002 Rogers was named the Alberta Band Assoc. Band Director of the Year. In 2010 he won the Phi Beta Mu Award for "Outstanding Contribution to Music Education in Alberta.
My life has been shaped by "The influence of incredible professors and mentors, including Dr. Vondis Miller and Dr. Linda Pimentel;
ongoing mentorship relationships with respected colleagues from across Western Canada;
the opportunity to engage in summer conducting workshops with such illustrious faculty as Eugene Corporon, Craig Kirkhoff, and Donald Hunsberger;
the opportunity to travel to major professional development events such as Mid-West Band and Orchestra Clinic and WASBE Conference;
the opportunity to travel to national and international festivals to perform for and work with countless excellent conductors and clinicians;
the opportunity to continue to play and sing in a wide variety of choirs, bands, jazz bands, and orchestras;
and finally, the unending love and support of my wife and family without which I would be lost!"
His philosophy is this,"I believe a music director's career is primarily a life of service to students, community, and profession that reaps immeasurable rewards over time. It is a privilege to make music every day with youth and community – joy and passion should be evident in every moment and on every face. I am fortunate to be able to do what I love for living and hopefully pass that love on to others."