A special award of
The John Philip Sousa
Foundation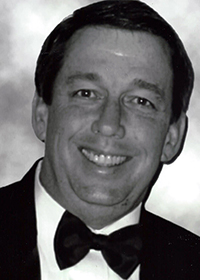 Michael Fiske is the Director of Bands at Joliet Central High School in Joliet, Illinois, a position he has held for the last fourteen years. He has spent his entire career of nearly forty years in the high schools of Indiana and Illinois.
Fiske earned his BME from Bradley University and his MME from the Indiana University School of Music.
Fiske has been named the Chicagoland Outstanding Music Educator in 2003. In 2011 he was named Steelman of the Year. The Joliet Historical Museum named him their Dream Maker Award in 2013 and he topped that off with the Joliet Area Great Teacher Award in 2015.
He has given back to the profession by serving as the Indiana Bandmasters Association's Vice-president.
His groups many achievements were topped off with a perfect score at the Illinois State University Concert Band Festival in 2015.The Bandworld Legion of Honor was established in 1989 to honor, over the course of a year, eight of the finest band directors in our business.

Recipients have taught for at least fifteen years, have maintained a very high-quality concert band program, and have contributed significantly to the profession through dedication to bands and band music.

Each is honored at the annual Sousa Foundation awards ceremony during the Midwest Band Clinic in Chicago, Illinois.

Chairman of the Legion of Honor Committee is Terry Austin, Virginia Commonwealth University.
After naming off his many mentors Fiske says, " perhaps the most important factor in shaping my career has been the constant love and support of my wife, Nancy, throughout all my 39 years of teaching. She has been my greatest ally and most honest critic. There really is a special place in heaven for band directors' wives."
His philosophy is this,"Teaching music as the noblest of all art forms involves an understanding of the musical process and conveying that process to my students. Music is the language of the human spirit. Understanding music as such enables the musician to convey the true beauty in expression and nuance on a "heart level". Helping students to accomplish this level of performance fosters a lifelong love of performing and listening to great music. Every student will not become a music teacher or professional musician. But they can acquire a musical life as a result of a sensitive study of this noble art. If we can help them accomplish that, we have done a fine job!"