A special award of
The John Philip Sousa
Foundation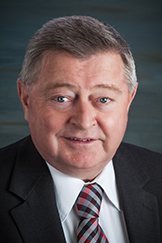 John Miller is the Director of Bands at American Fork High School in American Fork, Utah. He has held this position for the past thirty years
Miller earned his BME from Idaho State University and his MME from Brigham Young University.
Before landing at American Fork he served at Blackfoot Jr. High, Highland H.S. and Blackfoot H.S. He also served as an adjunct professor at Utah Valley State.
Miller was named the Alpin School District Teacher of the Year in 1999, Outstanding Music Educator by NFHSA in 2009, the Sudler Shield Winner in 2010 and the Utah Music Educator of the Year in 2015.
The Bandworld Legion of Honor was established in 1989 to honor, over the course of a year, eight of the finest band directors in our business.

Recipients have taught for at least fifteen years, have maintained a very high-quality concert band program, and have contributed significantly to the profession through dedication to bands and band music.

Each is honored at the annual Sousa Foundation awards ceremony during the Midwest Band Clinic in Chicago, Illinois.

Chairman of the Legion of Honor Committee is Terry Austin, Virginia Commonwealth University.
He has served his profession as the NBA Western Regional Chair, The Utah Bandmasters' President, the Treasurer of the Utah Music Educators Association as well as on the advisory board of the Midwest Clinic.
His groups, the Wind Symphony, Symphonic Band and Jazz Band, have consistently received Superior ratings at Utah regional and state festivals.
Miller says, "The love of music combined with the joy of working with youth has combined to motivate me to develop the best musicians and contributing citizens possible. I teach because my motives are more pure than if I were in any other profession."
His philosophy is this,"I believe strongly in the development of student leaders and the growth of the students in all areas of their lives including their musical development and believe that every student should experience the joy of music performance at the highest level possible."