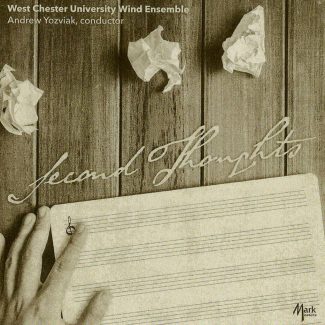 Album Title: SECOND THOUGHTS
Recording:West Chester University Wind Ensemble
Conductor: Andrew Yozviak
Publisher:MARK Masters -52989- MCD
Andrew Yozviak and the West Chester University Wind Ensemble continue to produce some of the finest recordings available and Second Thoughts is no exception. William Schuman's New England Triptych needs no introduction to the listener; this unmatched performance features all three movements. In Wartime by David Del Tredici is a descriptive two movement symphony and the composer's first composition for wind band. Toward the Splendid City (Daniel Danielpour (arranged Peter Stanley Martin) is a vivid musical portrait of New York City and vicinity. The remaining composition is a transcription of Samuel Barber's First Essay by Joseph Levey. Most unusual about this solid transcription are the recent discovered edits and revisions of Barber fifteen years after his passing adding the composer's authenticity to Levey's setting.
.