A special award of
The John Philip Sousa
Foundation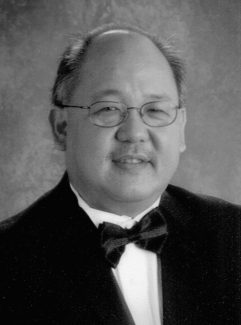 Dennis Kaneshiro is the Director of Bands at Kalani High School in Honolulu, Hawaii. He was the 1999 Hawaii Music Awards Teacher of the year. In 2008, he conducted the Maui District Massed Bands for the Maui High School Music Festival. From 2008-2011, he was also the Kalani High School Orchestra director. Kaneshiro is a member of the Oahu Band Directors Association where he served as Secretary and vice president and has chaired the High School Honor Band. Currently, he serves as a board member for the Hawaii Saxophone Foundation and an active member of the University of Hawaii Saxophone Choir and has volunteered as the saxophone adjudicator for the Oahu Band Director's Association's Solo and Ensemble Festival.
The Bandworld Legion of Honor was established in 1989 to honor, over the course of a year, eight of the finest band directors in our business.

Recipients have taught for at least fifteen years, have maintained a very high-quality concert band program, and have contributed significantly to the profession through dedication to bands and band music.

Each is honored at the annual Sousa Foundation awards ceremony during the Midwest Band Clinic in Chicago, Illinois.

Chairman of the Legion of Honor Committee is Terry Austin, Virginia Commonwealth University.
Under his direction, the band performed at the 1993 Holiday Bowl Parade and Music Festival. In 1995, the Symphonic Band performed at Disney World's Epcot Center in Florida and toured the East Coast. The band also traveled to Japan in March 1999 and performed at Narashino High School. Their travels have also taken them to Sydney, Australia (2001), New York City and Washington D.C. (2003), and the United States Air Force Band facilities (2005). In 2007, Marching Band and Wind Ensemble toured Tokyo for a performance at Tokyo Disneyland and a clinic in Hamamatsu. Most recently, the marching band performed in the 2009 Chantilly Parade in Paris and the 2010 London New Year's Day Parade and the Symphonic Wind Ensemble performed at Carnegie Hall in the 2013 New York Wind Band Festival and the 2017 Music For All National Concert Band Festival in Indianapolis. Certainly a well-traveled program.