A special award of
The John Philip Sousa
Foundation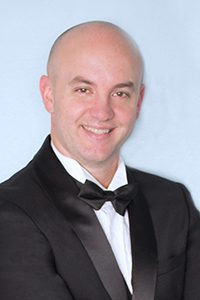 Adam Wilke is the Director of Bands at James Logan High School in Union City, California. He has held this position for the past 6 years.
Wilke Received his BA from Cal State, his MA from Cal State- Fresno and is currently DMA (ABD) with Boston University.
Before he arrived in Union City Wilke served as the Director of Bands at Arroyo Grande HS; he was the Assoc. Director of Bands/Director of Jazz Studies at Clovis East HS; he was also the Interim Assoc. Director of Bands at Cal State Fresno.
He is currently serving the profession as President of the California State Band Directors Association. He also served that organization as their Bulletin Editor from 2009 – 2016.
The Bandworld Legion of Honor was established in 1989 to honor, over the course of a year, eight of the finest band directors in our business.

Recipients have taught for at least fifteen years, have maintained a very high-quality concert band program, and have contributed significantly to the profession through dedication to bands and band music.

Each is honored at the annual Sousa Foundation awards ceremony during the Midwest Band Clinic in Chicago, Illinois.

Chairman of the Legion of Honor Committee is Terry Austin, Virginia Commonwealth University.
The Logan HS Wind Symphony has been selected to perform at the California All-State Music Educators Conference in 2015. They have also been invited to perform for WASBE that same year.
Wilke says,"I have been very lucky to be influenced by great teachers in my lifetime. I learned a lot of what it means to be a band director from my high school band director who later became my college band director, no colleague and friend, Dr. Gary Gilroy. Watching him forge his path in music education through hard work and perseverance was a huge influence on me and how I approach music education.
I was fortunate enough to study conducting with William Johnson at California Polytechnic University, San Luis Obispo in my early twenties. I later returned to California State University, Fresno for graduate work in conducting. These experiences have prepared me to work with the outstanding ensemble that I currently work with, and opened my eyes to the artistry in conducting."
He states his philosophy this way," Music is an art that speaks to the human soul, expressing that in which cannot be done with words. Music is a part of the human experience, and therefore, all people are musical. The skill to express oneself through music is something that can be achieved, with practice, in all people. As music educators, we are charged with not only teaching the skill of playing an instrument but with teaching all students to think creatively in sound."
As you would expect Wilke's groups have been awarded many prestigious awards in high ranking festivals. The Logan HS Marching Band was named Grand Champion in 2014 and 2016 by the Western Band Association.